Good Morning Everyone-
First, both the daycamp and the race have capped numbers [20 and 25 respectively] and we are at or very close to the caps. If you want to go onto a waiting list, please get in touch with me.
As I checked the COVID statistics this morning, MN appears to be experiencing a big spike in both new positive cases and related deaths. We will need to watch this closely for the next two weeks.
Meanwhile, whether you are planning on coming to ER or not, but especially if you are, PLEASE be very careful over the next two weeks, wear your mask when indoors and social distance where possible. And wash wash wash. Keep your hands away from your face. Try really hard not to become a statistic!!!
You should also get your annual flu shot as soon as possible.
If we all take these precautions now, and no one comes to the end of the month events feeling under the weather, I think we can be pretty much assured we aren't bringing the virus to the gatherings.
AT THE EVENTS, MASKS WILL BE REQUIRED UNLESS YOU ARE ON THE FIRING LINE OR SKIING. SOCIAL DISTANCE AS MUCH AS POSSIBLE. We will have extra rifle racks down at the firing line on Saturday and during zero on Sunday. All spectators, coaches, and officials should be masked at all times. Please spread out!
If these rules bother you, please stay home. No one should end up regretting they came sick and passed it on, or on the other hand, be concerned because someone else is trying to be macho!!!
Now, this morning we woke up to this: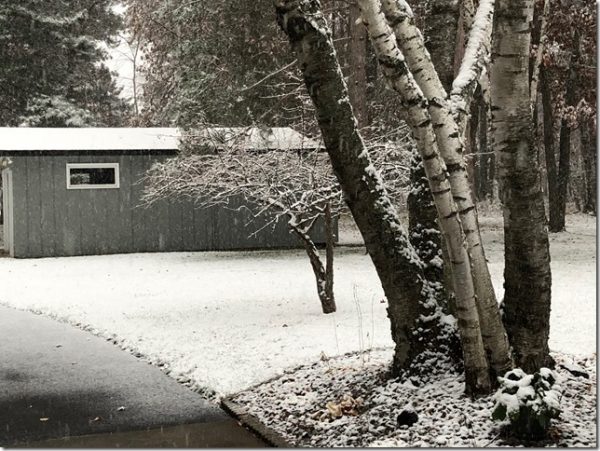 It is too early to predict the weather two weeks out, but watch your email after next weekend. We may need to modify our plans. While roller skiing with a skim of snow on the ground is futile, running, hill bounding, and shooting all work fine.
In any case, be careful, be safe, and keep an eye on your email for updates!!
The best season of the year is on its way!!
Bill Meyer, Coach
MNBiathlon