Yesterday we had a training session culminating in a time trial scaled by age/experience:

10 km
Jackson Grant 10 penalties 45:59
Connor Grant 9 penalties 49:45 [no carry]
Zean Baker 1,2,3,2 50:00

5.5 km
Jordan Fellbaum 13 penalties 38:52

1.5 km sprint [prone on standing x 2]
Kaylee Tipple – 2,0 14:37
Aspen Berg 3,0 15:10


I think a good time was had by all!! Weather was great!
Yesterday we started grooming the trails at the range. Several weeks of accumulation. Went well—this was the beginning..looked almost normal when the groomer left. He will be back early in the am to touch things up and pack any snow we get tonight.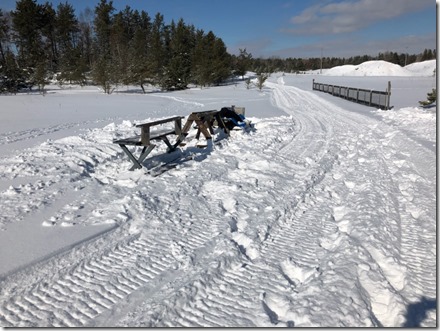 The "open house range " will start at 1:00 and include some safety instructions for any newcomers, a chance to shoot a biathlon rifle, and for anyone interested, a chance to do an informal time trial.
Distance choices will be 3.3, 5.5 7.5 or 10.0 km and targets for shooting will vary by skill level. Most newcomers will shoot prone off of a support at the normal standing target.
Cost is $10 for newcomers, no charge for MNBiathlon members.
There are no facilities at the Nisswa range. If you would like to stop at my house to change or use the bathroom, here is the address. The door will be open:
6054 Shady Acres Court
Nisswa, MN
The address for the range is
24757 Charmin Ave
Nisswa, MN
This will be a casual event. You can arrive anytime after 1:00 and we will try to fit you in. Starts for the time trial will be random clock times [no race clock] and you can do the course you select [plus shooting and penalty loops Smile] at your own pace. A finish clock time will be kept and your timetrial time will be sent out in the evening.
So different format for sure!
Please let me know if you plan to attend if you have not already done so [about 10 so far- mix of experienced and novices]
Enjoy the Journey!
Bill Meyer, Coach