Kaisa Bosek, 16, from Alexandria MN and a member of the Wolfpack/MN Biathlon Club has been nominated by the US Biathlon Association to be a member of the 6 athlete US Biathlon Team to the Youth Olympic Games to be held Jan 9-22 in Lausanne, Switzerland. This event is sponsored by the International Olympic Committee and includes all the Winter Olympic sports.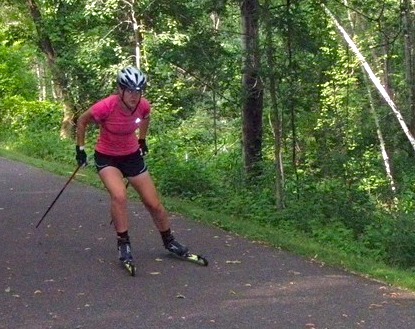 The US team will consist of 3 men and 3 women who were selected based on each athlete's best 4 of 8 national level races starting with Team Trials in Utah, continuing at Nationals in VT and finishing at the National Roller ski Biathlon Championships in VT early in August. Only one roller ski event could be counted even though the competitors skied on matched roller skis provided by USBA.
Bosek was in 3rd place on the Youth Women roster coming into the last races then dominated in the final two, finishing the series with a 7.5km Pursuit race shooting 0,0,0,1 [one miss in 20 shots] and finishing over 3 min ahead of her nearest YOG competitor and scoring 107.3% based on the avg of the top 3 finishers to move her up to 1st in the selection process, which is based on percent back scores.
Our congratulations to Kaisa and her coach, Jeff Bosek!